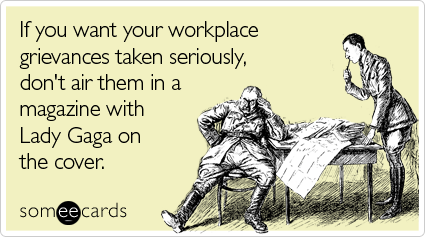 Because it's Friday, I can't remember if i have any workplace grievances this week. All I know is that I'm utterly confused about the whole
McCrystal
debacle.
I mean....
everytime
I watch or read news this week, I learn something new or contradictory to the last time I tuned in.
What boggles my mind is #1- the game of Boggle, and #2- that in this day and age, someone would be so dumb as to somehow dis their boss publicly. Don't you know that you don't do that on
Facebook
, loudspeaker, or magazine article?
[Aside: please don't be offended
Blogland
. By "you" here, I don't actually mean
you
. I mean Generals. I think I can safely assume that Generals in general don't read my blog as I never refer to war, weapons, or ammunition. Sometimes hot men in uniform, but even that is rare. Note to self....]
If you don't have something nice to say, come sit next to me.
In writing, workplace slander should only occur on an anonymous blog. Not even in email. Now, if you ask me if I've ever complained about my boss in writing, well, I'd have to plead the Fifth... but I do know it's a bad idea. Obvi. Plus, my boss isn't the President of the
U S of A
. Or even the boss of the company. Don't tell him I said that though.
You're welcome for all this etiquette advice.
Always remember, in the words of a very wise woman with a scarily auto-tuned voice:
Money can't buy you class. Elegance is learned, my friends.